Services
Other Services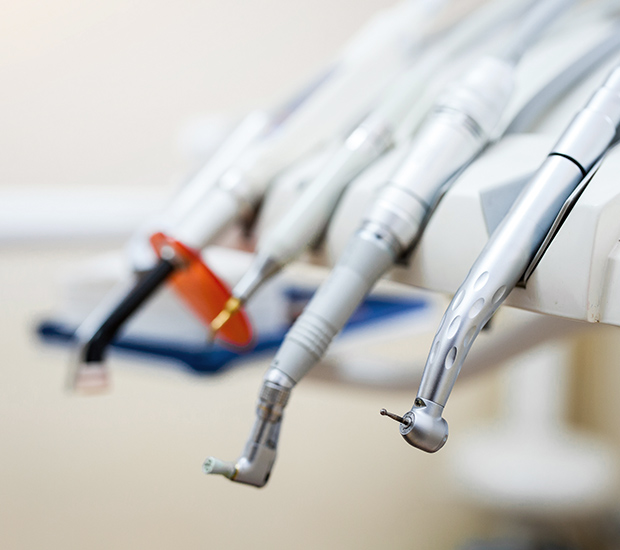 Root Canal Therapy
Underneath your tooth's outer enamel and within the dentin is an area of soft tissue called the pulp, which carries the tooth's nerves/blood vessels. Root canals are very small, thin divisions that branch off from the top pulp chamber down to the tip of the root.
What is a root canal procedure?
A root canal is a procedure done to save the damaged or dead pulp in the root canal of the tooth by cleaning out the diseased pulp and reshaping the canal. The canal is filled with gutta percha, a rubber like material, to prevent recontamination of the tooth. The tooth is then permanently sealed with a porcelain crown. This enables patients to keep the original tooth.
Extractions
What should you expect when you are scheduled for a tooth extraction? We will numb the area to lessen any discomfort. After the extraction, you will be advised of what post extraction regimen to follow, in most cases a small amount of bleeding is normal. Avoid anything that might prevent normal healing. It is usually best not to smoke, rinse your mouth vigorously, or drink through a straw for 24 hours. These activities could dislodge the clot and delay healing. For the first few days, if you must rinse, rinse your mouth gently. If pain or swelling occur, apply a cold cloth or an ice pack. Ask us about pain medication. You can brush and floss the other teeth as usual, but avoid cleaning the teeth next to the tooth socket.
Dentists have a number of options available to help restore teeth that are decayed or damaged. Extraction is the removal of a tooth. Sometimes an extraction is required if the tooth is too severely broken down to restore. Other reasons for an extraction are infection, periodontal disease, and orthodontic treatment.
Complete and Partial Dentures
Complete dentures may be made to restore your smile if you have lost all of your natural teeth Replacing missing teeth will benefit your appearance and your health. Without support from the denture, lip and facial structures sag, making a person look older. You will be able to eat and speak again. Partial Dentures may be used to replace a few teeth that are missing. When missing teeth are not replaced, any remaining teeth will shift to fill the empty space and can cause problems. A partial denture is a removable replacement for missing teeth. It consists of prosthetic teeth attached to a gum-colored base that is attached to your natural teeth with clasps.
Periodontal Treatment
Our hygienists perform the following types of dental cleaning:
Prophy
Full Mouth Debridement
Scaling and Root Planing / Periodontal Maintenance
Scaling and root planing procedures are used to treat early and moderate gum disease. It consists of mechanical removal of tartar, plaque and infectious debris from the areas affected. Additionally, a layer of infected tissue is removed so the tissue is able to heal and reattach to the root surface of the tooth. This is usually performed by your dental hygienist under local anesthesia. This procedure usually involves multiple visits, so your whole mouth does not have to be "numb" at any one time.
Bay Dental Associates: Aaron Moneyhan DMD, PA located in St Petersburg, FL. Our website has additional information about the following topics:
Bay Dental Associates: Aaron Moneyhan DMD, PA is a local cosmetic dentist office that specializes in transforming smiles into something beautiful. Whether you have missing teeth, cracked or chipped teeth, a crooked smile, uneven or stained teeth, we can help! Our dentists are experts at creating perfect smiles. Our patients are delighted when they look in the mirror and see how their new smile has changed their entire appearance You can read our reviews on Google+ to see how patients throughout the area are pleased they worked with Bay Dental Associates: Aaron Moneyhan DMD, PA. As a cosmetic dentist, some of our routine procedures include teeth whitening, veneers, implant dentistry, Invisalign, sedation dentistry and more. We understand that both emergencies and special events can come up without much notice. If you need dental work completed quickly we are happy to help, simply call and schedule an appointment or see our reviews on Google+ and learn how Bay Dental Associates: Aaron Moneyhan DMD, PA has transformed smiles throughout the city.
Modern technology has revolutionized the way dentures are made and how comfortable they can be. Dr. Moneyhan specializes in using the latest technology to create dentures that look like natural teeth. If you have lost some or all of your teeth dentures are an excellent way to restore functionality so that you can eat like normal, regain our natural speech, and smile with confidence. We focus on the small details that make our patients feel comfortable with their dentures. This includes making sure that the size of your new teeth are correct for your appearance. Patients in St Petersburg don't need to worry about ill-fitting dentures causing pain or looking out of place because every set of dentures is custom made for each individual patient. Dr. Moneyhan can create dentures that suction to your gums or use implant dentistry to secure them. Visit us and experience what the right set of dentures can do for you.