Contact Us
Hours of Operation
Saturday-Sunday, Closed
---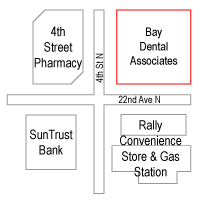 Address
2201 4th St N Suite C St Petersburg, FL 33704
Contact Information
(727) 823-2007
Bay Dental Associates: Aaron Moneyhan DMD, PA located in St Petersburg, FL. Our website has additional information about the following topics:
Dental Implants can transform your smile into something truly spectacular. In St Petersburg, patients trust our dental practice to create a perfect smile that looks and feels natural while eliminating any imperfections. Implants can be used to eliminate any gaps in your teeth, straighten teeth even better than braces, restore any missing teeth, and give you a Hollywood smile. This is all possible with implant dentistry. A synthetic root system is installed and secured to your jaw bone. Your new gorgeous teeth are attached to this root system to ensure complete stability. You can eat like normal and care for your dental implants like you would care for natural teeth. The one big difference is that your new teeth will be straight, white, and beautiful. Dental Implants are the solution for patients in the 33704 area looking to improve their appearance or restore functionality to their teeth. Schedule your appointment today!
If you are in need of an emergency dentist in St Petersburg, FL, we are here to help. You can call us at 727-823-2007 even during the weekends or evenings. We will get back to you right away and get you schedule for your emergency dental treatment. It is fairly common for patients to need immediate help. Things like a tooth falling out, cracking, or experiencing severe pain are all too common. Unfortunately, many dentists in St Petersburg, Florida, require patients to wait weeks before being seen. We understand that a dental emergency is not something to be taken lightly. We do our best to schedule patients quickly for treatment by an emergency dentist and get them on the road to recovery. No one should have to endure severe pain or walk around with a missing tooth. Don't live with the pain or embarrassment of dental health issue, call 727-823-2007 to schedule your examination today.